FLAGSTONE
Flagstone landscaping adds durability, beauty and value to any yard or home. Landscape designers know that flagstone is versatile enough for use in patios, driveways, fences – even on rooftops and walls. The flat-cut stone is becoming increasingly popular with homeowners who want the unique lines, textures and edges that can be achieved with flagstone landscaping. Flagstone can be made of several different natural materials. Shale, limestone and sandstone are the most common, although many homeowners and designers also love the polished look of marble. Flagstone comes in a variety of and colors, ranging from red to brown to blue. Many types will have a combination of colors. The stone is always cut flat, and usually comes in square or rectangular cuts, although some designers prefer the look of irregular cuts of flagstone.
Flagstone Landscaping is Popular for Patio
While there are a number of different applications for flagstone landscaping, the most popular is to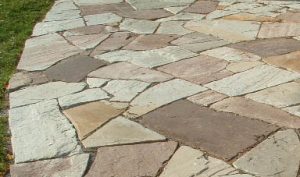 use it for patios, walkways and driveways. Landscape architects often suggest flagstone for patios or other areas that get heavy foot traffic because it holds up well and is so easy to care for. A flagstone patio will add value to a home by increasing its living space. Homeowners often report that their patios enable them to spend much more time outdoors by providing attractive spaces for entertaining. Also, because of its many colors and natural origin, flagstone blends with so many other landscaping designs, from gardens to fountains to ponds. Some homeowners also bring the beauty of flagstone landscaping indoors, where it has become a popular flooring choice in high-traffic rooms and hallways. Landscape architects and designers often opt for flagstone landscaping material over man-made pavers such as bricks or concrete for a number of reasons. Flagstone is durable: it can handle heavy traffic, typically doesn't chip or crack and can tolerate all weather conditions. It also doesn't fade.
Professional Flagstone Landscaping Adds Value
While the use of flagstone is growing as a landscaping choice with homeowners, putting down a flagstone patio or walkway is a job perhaps better left to the professionals. When going with flagstone, experts say, it's best to bring in a landscape architect or designer to draw up plans and then follow through with a landscaping company or stone mason to give the patio or walkway a polished, professional appearance. While it's not impossible for reasonably handy homeowners to make a nice flagstone patio, the job can be burdensome and some do-it-yourselfers have found themselves in trouble halfway through such projects. Plus, as many homeowners have discovered: the money they pay a contractor will more than be covered by the value they add to their homes. A beautiful flagstone patio or walkway is sure to help catch the eye of potential buyers.
RIVER STONE
Our River Stone is of the highest quality, and cleanest in the area.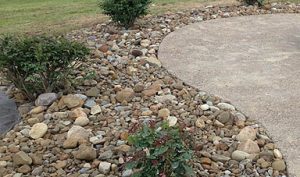 River Stone Sizes:
– Pea Gravel
– 3/4″ to 1/2″
– 1″ to 3″
– 3″ to 6″
– Larger stones available
River rock and similar inorganic mulches do not need to be replaced, but they may require periodic washing or the addition of a new upper layer of stones. This type of landscaping material is heavy and can be difficult to move or adjust after it is put into place. When combined with landscape fabric, river rocks offer effective weed control without a reduction in air and water movement.
PAVERS
The wide variety of pavers means you can create patterns in your walkway or driveways. Some pavers have smooth edges, while others have tongue-and-groove design that make them interlocking. When creating a walkway or patio with pavers, you can cut the pavers to fit your pattern using a wet saw with a diamond blade.
Cost
The manufacturing process makes pavers less costly than poured concrete or asphalt. Concrete pavers cost even less than comparable pavers made of sandstone, granite or clay, and are more durable, especially when used in driveways. The cost of repairing pavers is much less than concrete because you typically only remove the damaged pieces and reset new pavers in their place. When you consider many pavers have a life expectancy of more than 30 years, they are an economical choice.
Strength
Concrete pavers are made in a mold the packs the aggregate, cement and sand much tighter than you can ever achieve with poured concrete. This means the pavers are sturdier than poured concrete. Concrete pavers expand and contract with the seasons, but do not crack like slabs of concrete. Joints between the pavers allow for any seasonal or seismic movement. It's not necessary to add reinforcement material or rebar under pavers to strengthen them.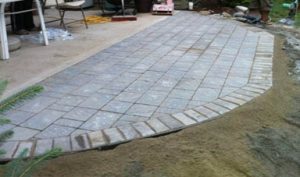 Low Maintenance
Routine maintenance includes regular sweeping or rinsing with a garden hose. If the sand in the joints rinses out, you simply sweep more sand into the joints. Any weeds that grow between the pavers are easy to remove. If necessary, you can pull up a paver to expose a weed's roots to destroy it. Heavy rains may occasionally cause the sand bed under the pavers to shift, which causes the patio or walk to be uneven. Leveling the sand underneath the pavers and compacting it prevents the problem from happening again.
Weather Resistance
Concrete pavers are ready to use as a driveway or patio as soon as you set them, unlike concrete, which much cure for several days before you can use it. Pavers have a rough surface that makes them naturally slip resistant. Deicing salts don't affect the surface of the pavers. You can shovel or plow snow from them. They also won't crack in a minor earthquake, like poured concrete does.
RETAINING WALL
Affordable Landscaping Products understands that West Virgnina terrain can be a unique challenge. Often times a retaining wall will be the first step in creating a new outdoor living area, make useful areas to your property, protect your home from slips, or provide drainage solutions. Our retaining walls are designed to work for you long term and to look just as beautiful as the rest of your property.
Visit our Retaining Wall page for more information!
LIMESTONE
Limestone has many uses. Those uses include patio pavers, landscaping rock, road gravel, concrete aggregate and soil conditioner. Cooked limestone is used to make Portland cement, the key ingredient in mortars, cements, and concrete.