RIVER STONE
Our River Stone is of the highest quality, and cleanest in the area.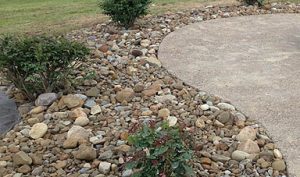 River Stone Sizes:
– 1/8" Pea Gravel covers ~ 90 – 100 SQ.FT.
– 3/4″ to 1/2″ covers ~ 80 – 90 SQ.FT.
– 1″ to 3″ covers ~ 70 – 80 SQ.FT.
– 3″ to 6″ covers ~ 50 – 60 SQ.FT.
– Larger stones available
River rock and similar inorganic mulches do not need to be replaced, but they may require periodic washing or the addition of a new upper layer of stones. This type of landscaping material is heavy and can be difficult to move or adjust after it is put into place. When combined with landscape fabric, river rocks offer effective weed control without a reduction in air and water movement.
LIMESTONE
Limestone has many uses. Those uses include patio pavers, landscaping rock, road gravel, concrete aggregate and soil conditioner. Cooked limestone is used to make Portland cement, the key ingredient in mortars, cements, and concrete.
---
PAVERS
The wide variety of pavers means you can create patterns in your walkway or driveways. Some pavers have smooth edges, while others have tongue-and-groove design that make them interlocking. When creating a walkway or patio with pavers, you can cut the pavers to fit your pattern using a wet saw with a diamond blade.
Cost
The manufacturing process makes pavers less costly than poured concrete or asphalt. Concrete pavers cost even less than comparable pavers made of sandstone, granite or clay, and are more durable, especially when used in driveways. The cost of repairing pavers is much less than concrete because you typically only remove the damaged pieces and reset new pavers in their place. When you consider many pavers have a life expectancy of more than 30 years, they are an economical choice.
Strength
Concrete pavers are made in a mold the packs the aggregate, cement and sand much tighter than you can ever achieve with poured concrete. This means the pavers are sturdier than poured concrete. Concrete pavers expand and contract with the seasons, but do not crack like slabs of concrete. Joints between the pavers allow for any seasonal or seismic movement. It's not necessary to add reinforcement material or rebar under pavers to strengthen them.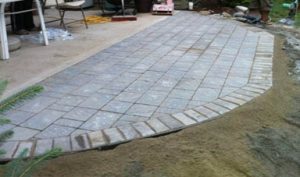 Low Maintenance
Routine maintenance includes regular sweeping or rinsing with a garden hose. If the sand in the joints rinses out, you simply sweep more sand into the joints. Any weeds that grow between the pavers are easy to remove. If necessary, you can pull up a paver to expose a weed's roots to destroy it. Heavy rains may occasionally cause the sand bed under the pavers to shift, which causes the patio or walk to be uneven. Leveling the sand underneath the pavers and compacting it prevents the problem from happening again.
Weather Resistance
Concrete pavers are ready to use as a driveway or patio as soon as you set them, unlike concrete, which much cure for several days before you can use it. Pavers have a rough surface that makes them naturally slip resistant. Deicing salts don't affect the surface of the pavers. You can shovel or plow snow from them. They also won't crack in a minor earthquake, like poured concrete does.
RETAINING WALLS
Affordable Landscaping Products understands that West Virginia terrain can be a unique challenge. Often times a retaining wall will be the first step in creating a new outdoor living area, make useful areas to your property, protect your home from slips, or provide drainage solutions. Our retaining walls are designed to work for you long term and to look just as beautiful as the rest of your property.
Visit our Retaining Wall page for more information!
Crucial products that defend and protect your outdoor living space
Affordable Landscaping Supplies wants you to be able to enjoy your investment for many years to come and SEK Surebond has the exceptional products you need to add longevity and beauty to your outdoor living space. Take a look below at the products we use and trust – feel free to contact us anytime so one of our specialists can help make sure you have the right tools for your project!
Not sure where to start? Take a look at this SEK – Product Selection Chart to get familiar with the products and their applications.
Installation
SnapEdge
Bonding Agents
SB-10 Paver Bond
Sealers
Joint Stabilizing Sealers
Wet-Look and Special Use Sealers
Restoration and Maintenance
Restoration and Maintenance System
Multi-use Cleaner