Landscaping Mulch is essential to the survival of your landscape. During a drought, mulch will reduce the amount of water that evaporates from your soil greatly reducing your need to water your plants. It improves the quality of your soil by breaking up clay and allowing better water and air movement through the soil. Landscaping Mulch also provides nutrients to sandy soil and improves its ability to hold water.
Furthermore, it also acts as an insulating layer on top of soil, keeping it cooler in the summer. Roots like that! Mulch also keeps weed growth to a minimum, and the weeds that do grow are much easier to pull. Gardeners like that!
Affordable Landscaping Supplies offers a variety of colors to choose from:
Landscaping Mulch
Coverage Guidelines
One cubic yard will fill roughly 1/2 a standard pick-up bed
One cubic yard = 27 cubic feet
One cubic yard will cover roughly a 10 X 16 (or equivalent) area at a depth of 2 inches
One cubic yard will cover roughly a 10 X 10 (or equivalent) area at a depth of 3 inches
One 3 cubic foot bag will cover 10 square feet at a depth of 2 inches
*Dyed red hardwood mulch is available in bag quantities by special order!
Landscaping Mulch
Landscaping Tips for Mulch
Before applying mulch, remove weeds and water thoroughly. This will help you get the most benefit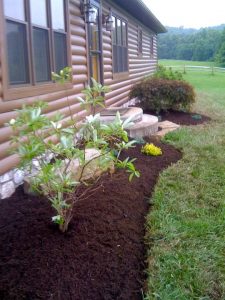 from your new mulch.
Replace the grass under trees with mulch to minimize competition for water and nutrients. This mimics the way trees grow in nature.
Keep mulch 6-to-12 inches away from the base of trees and shrubs.
Apply 2-to-4 inches of mulch in all planting areas. Finer mulches (sized a half-inch or smaller) should be applied no more than 2 inches deep. Courser mulches, such as large bark chips, can be applied 4 inches deep.